Introducing PowerSeries Pro
A commercial-grade security system designed with growth opportunities and cyber protection in mind.
PowerSeries Pro is a long-range, commercial-grade system with industry-leading intrusion technology, flexible integration possibilities and the dynamic power to protect enterprises of any size. It's all the power of wires, without all the wires.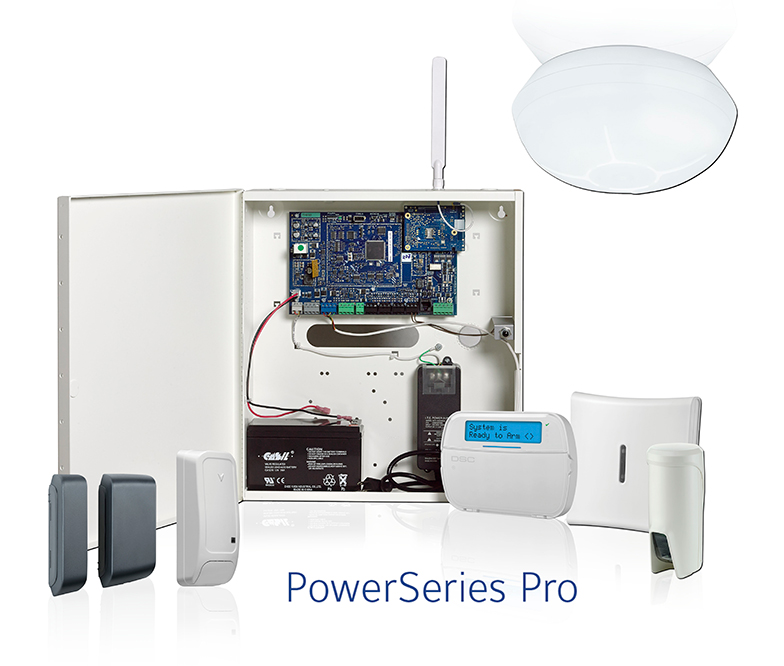 See why PowerSeries Pro is perfect for your next install
PowerSeries Pro vs. PowerSeries Neo
With a new DSC security system on the market, you may be wondering what's the difference.
|   | PowerSeries Pro |   | PowerSeries Neo |
| --- | --- | --- | --- |
| 248 Zones | |   | |
| Modular communicators | |   | |
| On-board Ethernet | |   | |
| Enhanced triple-end-of-line and PowerG anti-masking technology | |   | |
| Installation app | |   | |
| Removable Terminal Strips | |   | |
| Programmable Hardwired Zone Resistance | |   | |
| Additional Current for adding more devices | |   | |
Bottom Line:
We recommend PowerSeries Neo for residential and small-sized businesses, and PowerSeries Pro for medium-to-large-sized businesses and large-scale commercial properties.

Compatible Products
Designed with growth opportunities in mind, PowerSeries Pro is compatible with a long list of security products. You can install together, or as you go, according to your customer's growing needs.
Name
Number
8 Zone Expander with removable terminal blocks
HSM3408
2 Amp Power Supply Bus Extender with 4 relays outputs
HSM3204CX
3 Amp Supervised Power Supply
HSM3350
18 V DC Power Adapter for main panel and power supplies
HS65WPSNA
WIFI Adapter for installer programming
HSM3WIFI
LTE Cellular Communicator
LE9080
Alarm.Com Dual Path Communciator
TL880LT N
LCD Keypad with Optional Prox and/or PowerG Transceiver
HS2LCDPRO(RF)(P)
TouchScreen Keypad with Prox. Tag Support (available in black or white)
HS2TCHPRO(BLK)
8 Zone Expander
HSM2108
1 Amp Power Supply with 4 programmable outputs
HSM2204
8 low current power programmable output expander
HSM2208
1 Amp Supervised Power Supply
HSM2300
Two-Way Audio board
HSM2955(R)
PowerG Transceiver
HSM2HOST9
Compatible with all PowerG devices
Secure
Easy to Install
Powerful
Globally-Certified
Downloads
English
Vertical Market Brochures
French
How to Videos
Enrolling Devices Configuring Wireless Zones
Delete Wireless Devices
Configuring Hardwired Zones
Enrolling Corbus Module Configuring Zone Expanders
Configuring the Communicator Settings
How to Wire Panel and Modules
How to Program the Panel using the WIFI Adapter and Installer App
Purchase Today
PowerSeries Pro is available now. Contact your local sales rep to place your order.
Thank you for your inquiry!